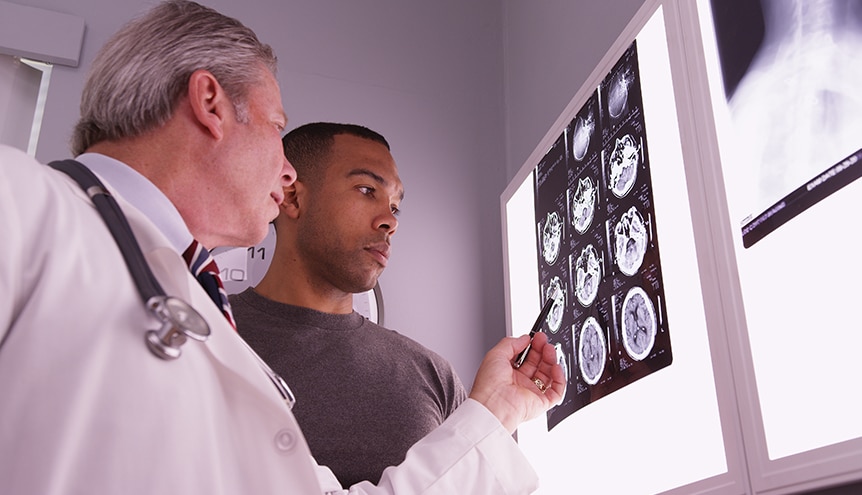 Tulsa Traumatic Brain Injury Lawyers
Helping Oklahoma TBI victims hold wrongdoers accountable
Traumatic brain injuries (TBIs) are life-altering events. Survivors of moderate to severe traumatic brain injuries often live with cognitive and emotional pain in addition to their physical pain. Many TBI victims require a lifetime of medical care with physicians, a variety of therapists, and with mental health professionals. TBIs often affect all members of the victim's family who are devastated watching a loving functional person struggle with everyday tasks and spend much time caring for the victim, too.
The Tulsa TBI lawyers at Biby Law work with neurologists, neurosurgeons, physical and emotional healthcare providers, and families to help show just how life-changing a TBI is. We also work with investigators, the police, and others to help prove the injuries were due to the negligence of another party. We care that you or your family members brain injury may cause a lifetime of struggles, and we will fight for a better future for you and your family.
Why do traumatic brain injuries occur?
Traumatic brain injuries are caused by violent shaking or pressures of the brain and skull. The Centers for Disease Control and Prevention (CDC) defines a TBI as "a disruption in the normal function of the brain that can be caused by a bump, blow, or jolt to the head, or penetrating head injury. Everyone is at risk for a TBI, especially children and older adults."
Traumatic brain injuries are often caused by:
Vehicle accidents. These crashes include cars, trucks, motorcycles, and pedestrians being struck. The force and speed of the vehicles can cause the occupants, passengers, and pedestrians to strike the ground, the dashboard, and each other.
Premises liability accidents. TBIs can be caused by a person slipping and then falling on their head. Workers and visitors to retail and nonprofit locations can also occur if merchandise or other objects fall on a person's head.
Construction site accidents. There's a reason construction workers should wear helmets. It's easy to get struck from above, from the side, and from moving vehicles. It's easy to fall from scaffolds or ladders. Workers who suffer a TBI at a construction site have the right to file a personal injury claim or workers' compensation claim depending on their employment status.
Oilfield accidents. Many Oklahomans work in oilfield sites. Like construction sites, the work is highly physical. Being struck on the head can happen from almost any direction due to poor worksites, other workers, machines, and tools.
Experienced traumatic brain injury lawyers work to show that drivers sped, drove while distracted, drove while intoxicated, or were just plain careless. Our experienced Tulsa TBI lawyers also work to show that property owners, construction site owners, and oilfield owners failed to follow Occupational Safety and Health Administration (OSHA) rules and regulations, building codes, and industry protocols.
Traumatic brain injuries can also be due to assaults, near drownings, shootings, and other causes.
What are the types and severity of traumatic brain injuries?
According to Mayfield Brain and Spine, TBIs are categorized in the following ways:
Concussion. This is usually a mild head injury that "can cause a brief loss of consciousness and usually does not cause permanent brain injury."
Contusion. This is a bruise to a specific part of the brain caused by impact.
Diffuse axonal injury. This TBI is a "shearing and stretching of the nerve cells at the cellular level. It occurs when the brain quickly moves back and forth inside the skull, tearing and damaging the nerve axons."
Traumatic Subarachnoid Hemorrhage (tSAH) is "bleeding into the space that surrounds the brain."
Hematoma. This is a blood clot that compresses the brain. The severity of a hematoma varies based on the where the clot is.

A clot that forms between the skull and the dura lining of the brain is called an epidural hematoma.
A clot that forms between the brain and the dura is called a subdural hematoma.
A clot that forms deep within the brain tissue itself is called an intracerebral hematoma.
In addition to the above primary injuries, a TBI victim may suffer a secondary brain injury. This secondary TBI happens due to the body's inflammatory response to the primary injury. "The brain receives extra fluid and nutrients which is normally a good result but with brain inflammation, the limited space in the skull may cause additional injuries due to excess swelling."
What are the signs and symptoms of a TBI?
According to the CDC, indicators for a TBI are based on the following four categories:
Physical difficulties. Headaches. Blurred vision. Nausea. Dizziness. Light sensitivity. Fatigue.
Cognitive difficulties. Feeling slowed down. Difficulty concentrating or thinking clearly. Difficulty remembering.
Emotional problems. Sadness. Nervousness. Stronger emotions.
Sleep difficulties. Sleeping more or less than usual. Difficulty falling asleep.
In the worse cases, a patient may die due to the initial TBI or due to complications.
What types of health care providers treat TBI victims in Tulsa?
Survivors often need to treat with the following health providers in addition to neurosurgeons and neurologists:
Their family doctor
Pain management doctors
Speech therapists
Physical therapists
Vocational therapists
Psychologists
Other health providers may be consulted with depending on the type and severity of the TBI.
What kinds of damages can I claim for a TBI in Tulsa?
Once liability for a TBI is established, the damages our skilled Tulsa TBI lawyers seek include:
The cost of any surgeries and hospital stays
The cost of all medical treatments for as long as they are needed
The victim's loss of income including compensation for a complete disability
The physical pain of the TBI victims
The victim's emotional suffering
Any medication expenses
The cost of any assistive devices or home modifications
The cost of all rehabilitation therapies and treatment for emotional injuries
Any property damage such as damage to a car
The loss of consortium of a spouse
Compensation for any disfigurement
Some of these expenses can be verified through your doctors and your employer. There is an art to arguing for compensation for pain and suffering and any non-economic losses.
Speak with an experienced and respected Tulsa traumatic brain injury today
If you or a loved is suffering from a traumatic brain injury, the compassionate Tulsa TBI lawyers at Biby Law Firm are ready to help. Since 2012, attorney Jacob Biby has obtained 70 personal injury settlements and verdicts valued at $100,000 or more. He understands that TBIs often require a lifetime of medical and personal care. That's why he works with your doctors and independent doctors, if needed, to fully understand your physical, emotional, and cognitive difficulties. To schedule a free consultation, call us at 918-574-8458 or fill out our contact form. We handle TBI cases on a contingency fee basis. We proudly serve all of Green Country including the communities of Tulsa, Grove, Broken Arrow, Bixby, Claremore, Jenks, Sand Springs, Sapulpa, Wagoner, Muskogee, and the surrounding areas.
Related Articles: