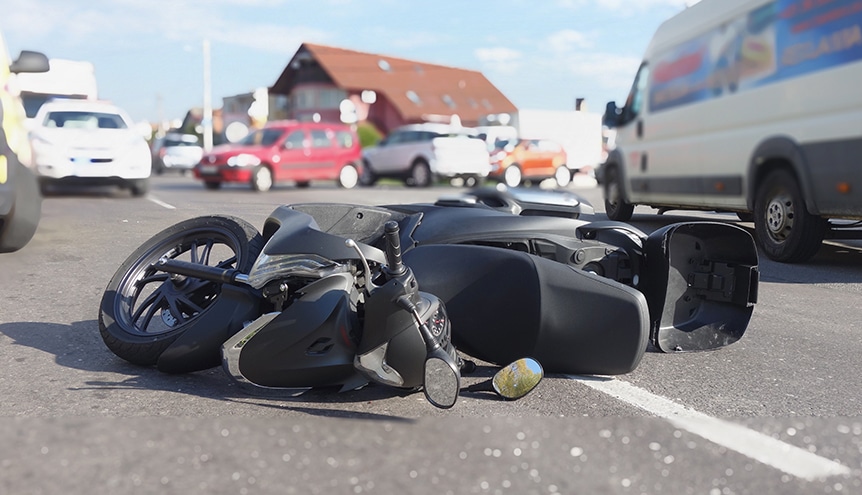 Tulsa Motorcycle Accident Lawyers
Representing riders and passengers throughout Oklahoma in injury claims
For most motorcycle riders, there's nothing like the joy of the wind and the freedom of the open road. However, the enjoyment also brings many dangers. Sadly, motorcyclists are oftentimes the victims of negligent automobile drivers. When these collisions occur, motorcycle crashes often result in serious long-term injuries or deaths.
At Biby Law Firm, our respected Tulsa motorcycle accident lawyers understand that at fault parties, their insurance carriers and lawyers will often try to blame motorcycle riders by either claiming a motorcycle driver was speeding, wasn't wearing a helmet, or wasn't making themselves visible. As a result, we work aggressively to show that a car or truck driver caused the motorcycle crash. We work to show drivers failed to even recognize that you were on the road or failed to respect your right of way. We will use all available resources through investigators, the police, and others to establish that a driver caused your pain and suffering, your medical condition, your medical expenses, and your lost wages. We also demand compensation for your damaged motorcycle.
A motorcycle rider is 29x more likely to die from injuries sustained in a crash than drivers and passengers in cars are.
Why are motorcycle accidents so dangerous?
Unlike cars and trucks, motorcycles don't have steel structures, roofs, and doors to protect riders in the event of a wreck. It is very likely the riders will be thrown from their motorcycles in a collision.
Drivers must have a motorcycle endorsement on their license. Furthermore, before ever going on the road, a motorcycle driver should undergo extensive training. Whether by private instruction or formal courses, all motorcycle drivers should learn how to start, stop, steer, turn, pass, drive in groups, and navigate in bad weather. All motorcycle owners also need to learn how to properly inspect their motorcycle before each trip and throughout the lifetime of their motorcycle.
Common causes of Tulsa motorcycle accidents
Driver error is the leading cause of most types of vehicle wrecks, and it can contribute to motorcycle accidents, too. Drunk driving, distracted driving, speeding, fatigue – all of these can easily lead to a crash. Some of the unique reasons cars and trucks strike motorcycles or cause the motorcycle to crash include:
Blind spots
Not giving a motorcycle the right of way
Not properly judging the speed or position of the motorcycle
Not understanding hand signals
However, bikers can cause their own wrecks, too. If you were riding as a passenger on a motorcycle and the driver was acting negligently, you can pursue a claim for damages for your injuries as well. Some of the more common causes of motorcycle accidents specifically related to rider error include:
Not being prepared to drive in bad weather
Hitting an object or pothole in the road
Taking turns too fast
Improper handling of the motorcycle when lane surfaces change
Driving on slippery, oily, or wet surfaces
Alcohol or drug use
Improper training
Not securing the passengers
Being distracted
Speeding
Weaving in and out of lanes
Trying to pass when there's not enough room
What are common injuries caused by motorcycle accidents?
Survivors of Tulsa motorcycle accidents often hit the ground hard and slide along the ground. They also may fly into other cars and vehicles or onto the sides of the road. Many victims suffer catastrophic or serious injuries including:
Traumatic brain injury. The excessive force of the accident can cause physical harm, loss of cognitive damage, an inability to perform routine functions such as eating and sleeping, and emotional problems. The risk of a TBI is why many riders wear a helmet.
Spinal cord damage. Spinal cord damage affects the central nervous system. Victims may suffer full or partial paralysis of their legs, limbs, and torso. Victims may also have to live with a lifetime of severe and chronic pain.
Road rash. When victims slide on the asphalt or road surface, they are likely to suffer burn injuries to any part of their body that isn't covered. Severe road rash can damage the inner layers of the skin and may cause dangerous infections.
Broken bones. Many victims break the bones in the arms, legs, hands, and other parts of their body.
Amputations. In catastrophic cases, motorcycle accident victims have to have a limb or appendage amputated which can cause a great amount of emotional pain, physical pain, and the inability to use that body part.
Motorcycle accident victims may also suffer:
Back, neck, and shoulder injuries
Bruises
Cuts and lacerations
Internal organ damage
In the most tragic cases, drivers and passengers are killed when their motorcycle crashes. In wrongful death cases, the spouse, children (and parents of minors or unmarried adults), parents or next of kin generally have the right to compensation from anyone or any company that caused the death. Tulsa families can claim wrongful death damages for the burial expenses, the loss of consortium of the spouse, the decedent's pain and anguish, the financial loss caused by the victim's death, and the grief and loss of companionship of the spouse and children.
What damages can be awarded in a Tulsa motorcycle accident?
The responsible drivers and other responsible parties are required to pay for:
The victim's pain and suffering
All medical expenses including ER care, hospital stays, doctor visits, psychological care, and various types of therapy visits.
The victim's lost wages
The victim's loss of future income/earning potential
The cost to repair or replace the bicycle
Compensation for any scarring or disfigurement
In cases of wanton misconduct, defendants may be required to pay punitive damages.
Who is liable for a motorcycle accident?
The following people may be liable for a motorcycle accident depending on how it occurred:
The passenger can file a claim against a negligent motorcycle driver
The owners of the vehicles if their driver caused the accident
Other responsible parties may include alcohol sellers, the state of Oklahoma or its subdivisions and agencies.
Additional people or companies may be liable too. Our skilled Tulsa accident lawyers fight to hold all responsible parties liable for your damages.
Talk to a distinguished Tulsa motorcycle accident lawyer today
At Biby Law Firm, our lawyers understand that for most clients, an accident case is the first time they meet with an attorney. We place a priority on getting to know our clients so we can better understand their pain and their anxieties. We work tirelessly to hold everyone who caused the accident accountable. To speak with a lawyer who the insurance industry and defense lawyers respect, call us now at 918-574-8458 or use our contact form to schedule an appointment. We handle motorcycle accident cases on a contingency fee basis. We proudly serve all of Oklahoma including the communities of Tulsa, Broken Arrow, Bixby, Claremore, Jenks, Sand Springs, Sapulpa, Wagoner, Muskogee, and the surrounding areas.