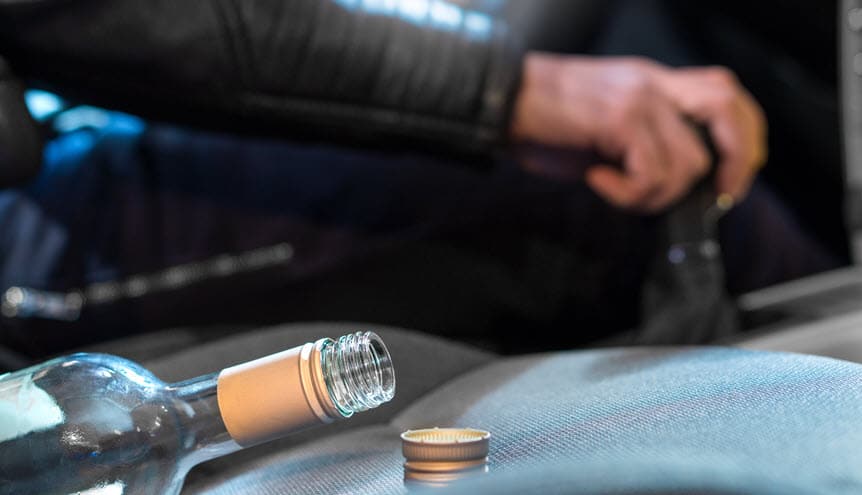 Tulsa Drunk Driving Accident Lawyers
Strong representation for victims and families when intoxicated drivers cause a Tulsa accident
There's no excuse for drunk driving. Every driver should know that driving while intoxicated is dangerous for any drivers or passengers on the road. Drunk driving is also a leading cause of death to pedestrians and bicycle riders. Simply put, if someone needs to drink away from home, he/she should arrange for alternate transportation or should walk home.
At Biby Law Firm, our seasoned Tulsa drunk driving accident lawyers work with the police, investigators, and others to show that a driver was intoxicated, and that the intoxication was the cause of the car accident. We demand compensation for your medical bills, lost wages, property damage, and pain and suffering. If a loved one died, we file a wrongful death claim on behalf of your spouse, parent, or child. Oftentimes drunk driving cases can carry additional damages, called punitive damages, designed to punish the wrongdoer and deter others from engaging in similar conduct in the future.
Frequently Asked Questions (FAQs) about Tulsa drunk driving accidents
How dangerous are drunk driving accidents?
According to Responsibility.org, more than 10,500 people died in drunk driving accidents nationwide in 2018. One hundred and forty-five of those deaths occurred in Oklahoma, and about a fifth of all fatal accidents in our state – 22%, to be precise – involved a drunk driver. About 80% of fatal drunk driving accidents in Oklahoma involved a drunk driver whose blood alcohol content (BAC) level was .15 or higher, and 83% involved a repeat DUI offender.
Why is drunk driving so dangerous?
Drivers who drive while intoxicated are a danger to themselves, their passengers, and anyone near the drunk driver's car for many reasons. According to Alcohol Awareness:
"'One drink is defined as 12 oz. beer, or 5 oz. wine, or 1.5 oz. liquor."
After just two drinks, a driver starts to lose his/her judgment, visual functions begin to decline, and the ability to multitask starts to diminish.
After three drinks, a lack of coordination sets in. The drinker is much less alert. It becomes difficult for a driver to steer.
After four drinks, the drinker is less able to concentrate. "There is reduced signal interpretation, (for example, stop signs and red lights are harder to see), and perception of speed is thrown off."
After five drinks, the driver can't steer at all. The ability to brake becomes impaired.
After six or more drinks, the drinker loses physical control, is unable to focus on his/her driving, and the visual and hearing senses are severely diminished.
What are the laws against drunk driving in Tulsa?
In Oklahoma, driving under the influence of alcohol:
Is unlawful. It is illegal "for any person to drive, operate, or be in actual physical control of a motor vehicle within this state, whether upon public roads, highways, streets, turnpikes, other public places or upon any private road, street, alley or lane which provides access to one or more single or multi-family dwellings, who:
Has a BAC of .08 or more provided a breath or blood test is given within two hours of the arrest or is otherwise under the influence of alcohol.
Drivers can also be charged with a DUI based on impairment due to the use of drugs. There are severe criminal penalties including prison time and fines for driving under the influence convictions.
How does the criminal DUI case affect your civil personal injury or wrongful death case?
If you were injured or a loved one was killed, it is not necessary for the driver to be convicted of DUI. It is important to remember that the criminal proceedings, which are brought by the appropriate prosecuting authority, are separate and independent of an injured party's civil claims which are brought individually by the victims themselves.
At Biby Law Firm, we work with the police and the prosecution if a drunk driver causes an accident. In most instances the criminal case proceeds first. If a driver is convicted of driving under the influence, then it generally follows that the driver will be found liable civilly for causing the accident. In some circumstances it can be strategically beneficial to initiate a civil lawsuit while the criminal proceeding is still underway.
Regardless of the result of the criminal case, our lawyers seek to introduce the results of any breath, blood, or urine tests that the police administered. We also procure and introduce the dash cam and body cam footage from emergency personnel who respond to collisions to help prove the existence and level of a defendant's intoxication.
Who else may be liable if a drunk driver causes an accident?
In addition to the driver, the owners of the vehicle may be liable if the owners and drivers aren't the same. For example, if a teenager uses a parent's car, drinks, and then causes an accident, the parents may be liable for their teenager's negligence. If your injuries were caused by a drunk truck driver, the trucking company's insurance company may be held liable.
Generally, social hosts cannot be held accountable for an accident. So, if a host serves drinks in his home and a neighbor becomes drunk and causes an accident, you cannot file a claim against the host even if the host was aware the neighbor was drunk. Under Oklahoma's dram shop laws, commercial establishments such as bars, restaurants and other businesses that serve alcohol, may be held liable for overserving a patron who later causes a collision as a result of being impaired.
Can families file a wrongful death claim against a drunk driver in Tulsa?
If someone in your family tragically dies due to an accident caused by a drunk driver, the family can file a wrongful death claim against the driver. Again, wrongful does not mean criminally liable. If the driver's intoxication caused an accident, the driver should be liable.
Families of a loved one killed by a drunk driver can file a wrongful death claim. The damages permitted include funeral and burial expenses, the loss of consortium and grief of a surviving spouse, any mental pain and anguish of the decedent, the survivor's financial loss, and "the grief and loss of companionship of the children and parents of the decedent, which shall be distributed to them according to their grief and loss of companionship."
How does insurance work in drunk driving cases?
In many cases, a drunk driver does not have liability insurance or does not have enough insurance. If you or the person who was killed purchased uninsured/underinsured (UM/UIM) coverage, then a claim can be filed through your/the victim's UM/UIM policy. If the drunk driver has insurance, then his/her insurance should pay for the damages.
Is there a Tulsa drunk driving accident lawyer near me?
We have two convenient law offices located at 1646 So. Denver Ave. and 6305 E. 120th Court, Ste. K9. If you are too injured to come to us, we can come to you.
Talk with a caring Tulsa accident lawyer today
At Biby Law Firm, we understand how traumatic drunk driving cases are. We work with the families of a loved one who is killed. We work with victims who suffer head trauma, burns, spinal cord damage, broken bones, soft tissue injuries, and any other type of injury. Our lawyers obtain favorable settlement on many of our cases, but we are willing and ready to try your case in court if necessary.
To schedule an appointment, call our respected Tulsa trial lawyers at 918-574-8458 or use our contact form. We proudly serve all of Oklahoma including the communities of Broken Arrow, Bixby, Claremore, Jenks, Owasso, Sand Springs, Sapulpa, Wagoner, Muskogee, and the surrounding areas.
Related Articles