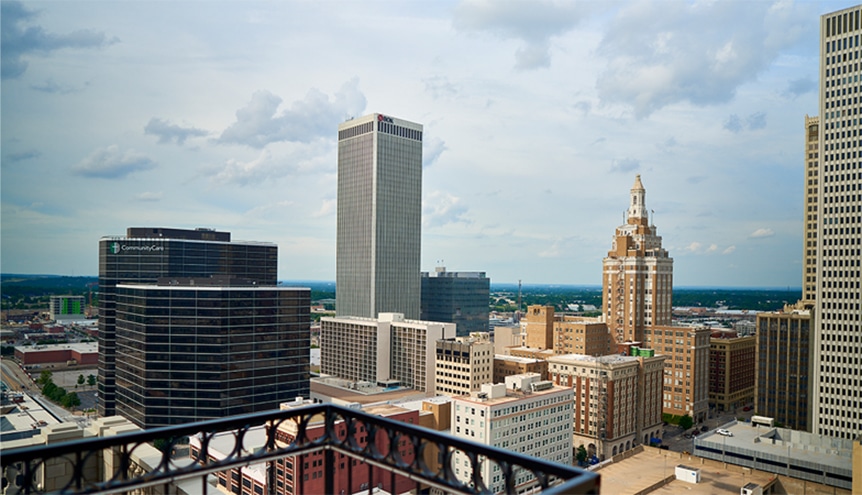 The Personal Injury Process in Tulsa: Settlement, Mediation, Arbitration and Litigation
Choosing the best path for your injury case to take
Court trials make for fascinating television programming and movie viewing. However, litigation isn't the only option for your personal injury case. Though Biby Law Firm prepares every case as if it will end up at trial, we know that sometimes a just and fair settlement will present itself and allow our client to avoid the risk and uncertainty guaranteed by a trial.
There are methods of alternative dispute resolution (ADR) like mediation or arbitration which may be required by law, contract, or the court in any given case. Other times a voluntary agreement to conduct a mediation will occur. Our Tulsa injury lawyers can explain the different options, and help you make the most of whatever path your case takes.
What if I want to settle my personal injury case?
If you want to avoid a trial, or if you have been offered a fair settlement amount from the wrongdoer or their insurance company, then you can, and should, settle your claim. HOWEVER, you should never negotiate with the insurance companies for the defendants, or even your own insurance company, without first speaking with one of our experienced Tulsa personal injury lawyers. It may turn out that the "fair" offer you were given wasn't very fair at all. And once you settle your case, you cannot go back and ask for more compensation if it turns out your injuries are more severe than you thought. Similarly, settling with the at-fault party could preclude you from accessing first-party benefits that you otherwise would have been able to avail yourself to.
At Biby Law Firm, our experienced personal injury lawyers understand how to prepare your case so that insurance negotiations yield the strongest possible results. We work to show the defendants are responsible in different ways. We send investigators to examine the accident site, speak with witnesses, and examine any other evidence that shows how the accident happened, and what the defendants should have done to prevent the accident. We use the discovery process to fully question anyone and everyone who has information about your claims. We anticipate and aggressively work to counter the opposing side's attempts to deny or devalue your claim.
Our Tulsa trial lawyers also work with your doctors to show the accident caused your injuries, the type of care you need, the cost of the care, and all the ways your injuries have made your life more difficult. We also work with your employers to show how your wages may have been impacted by your injuries.
How does the insurance settlement process work?
When the status of your injuries is reasonably clear our office usually prepares a formal demand letter to summarize your case. This letter explains why we believe the defendants are liable and what your damages are. Your damages include your medical bills, both past and present, the nature of your injuries, loss of bodily function, scarring or disfigurement, and any other way your life has been impacted. Your damages also include your current and future income and benefit losses, the damage to your property, and other economic harms.
The demand letter includes materials used to document the extent of the losses suffered by you. It usually acts as the formal opening of negotiations as most demand letters also contain an initial settlement demand. Typically, the insurance company will review the demand letter and respond based on their client's view of how the accident happened, the insurance company's review of your medical injuries, and by reviewing their information databases which will usually have information on you as well as settlement ranges for other similar claims. The insurance companies also account for the attorneys involved in the case and what their reputation is for settling for lowball offers and/or a firm's litigation and trial experience.
There's typically some back and forth between our lawyers, the adjusters, and you to determine whether a pre-suit settlement can be reached. More times than not the at-fault party will relay their top offer and the case will either resolve or proceed to litigation.
How your settlement award is paid
Once you agree to a settlement, the liable party/insurance company will issue a check in the amount of the award. The check will be sent to our office, and we deposit it into a trust account. Why? Because you likely have outstanding bills that need to be paid first. There may also be medical liens on your case. Once any bills, fees, and other liens are paid, a check for your personal net recovery will be issued to you. Prior to agreeing to settle your case you should have a very good idea of your net recovery after all bills, fees and costs are paid. An experienced personal injury attorney will be able to show you line by line everything that is coming into and out of a settlement before you make the final judgment to fully resolve your claim.
Is my personal injury case subject to arbitration in Tulsa?
Arbitration is an alternate dispute resolution process in which a person or group of people, usually 1 – 3, are selected to rule on your case.  It is an alternative to a judge or jury doing so. Some arbitrations are binding, meaning the panel's ruling is final, while others are nonbinding.
Going to arbitration can be agreed upon by the parties but more frequently is a component of a contractual agreement/relationship between the parties. Insurance companies and businesses generally prefer arbitration. They cannot force you to select the arbitration process unless you agree – or unless you agreed in writing prior to the accident. There are some limited cases such as class action cases and some business-related cases where victims agree to arbitrate ahead of time.
Most personal injury cases don't involve any type of prior agreement or relationship between the parties. However, arbitration clauses are common in nursing home and assisted living contracts, and these clauses may be enforceable under the law. The same is true for some cases involving the oil and gas industry. If you think your case may be subject to arbitration we can represent you, but before the hearing takes place, we will thoroughly explore whether it is mandatory to do so or not.
Is my personal injury case subject to mediation in Tulsa?
The mediation process involves a neutral person (a mediator) who tries to negotiate an agreement in lieu of a trial. Mediation is generally less time consuming and less expensive than litigation. It is an opportunity for all persons critical to a particular case (attorneys, parties, and adjusters) to convene at a specific time and place to focus solely on the case at issue. Mediation is not binding and comes with the added benefit of confidentiality – anything that occurs at mediation cannot be brought up later in the case. Most importantly, mediation is an opportunity for both sides to reach a guaranteed outcome of a claim. Trial, while sometimes the only option for an injured person for any number of reasons, necessarily comes with the uncertainty and risk of leaving one's case in the hands of a judge and/or jury.
Will I have to go to trial?
You can't be certain what a jury will decide about liability, or how much they'll award you if they decide the defendants are indeed liable. But in some cases, a trial will be necessary to get you the best possible outcome.
Rest assured that we will tirelessly prepare you and your case for trial. Most personal injury trials are slow, calm question-and-answer sessions, relative to the dramatic contests you see on TV and in film. We pride ourselves on using state-of-the-art means of case presentation so we can effectively convey your case to the jury and persuade them of the merits of the compensation we are asking them for.
Do you have a personal injury lawyer near me?
Biby Law Firm has two Tulsa offices located at 1646 S Denver Ave. and 6305 E 120th Ct. Suite K9. We do meet clients away from the office or through video conferences when necessary.
We'll guide you through each phase of the personal injury litigation process. Our aim is always to help you obtain the strongest result possible so you can focus on your health, your family, and your life, whether it be through trial or pre-trial settlement.
Contact our Tulsa trial lawyers today
At Biby Law Firm, we often obtain results that are much higher than the computer databases used by insurers suggest cases are worth because we know and are ready to counter the defense's arguments.  We also have several instances where we have sought and received jury verdicts in excess of a party's maximum insurance coverage when defense attorneys and/or adjusters fail to properly evaluate our clients' claims.
To speak with our experienced Tulsa personal injury trial lawyers, call us or fill out our contact form to schedule an appointment. We proudly serve all of Oklahoma including the communities of Broken Arrow, Bixby, Claremore, Jenks, Sand Springs, Sapulpa, Owasso, Wagoner, Muskogee, and the surrounding areas.