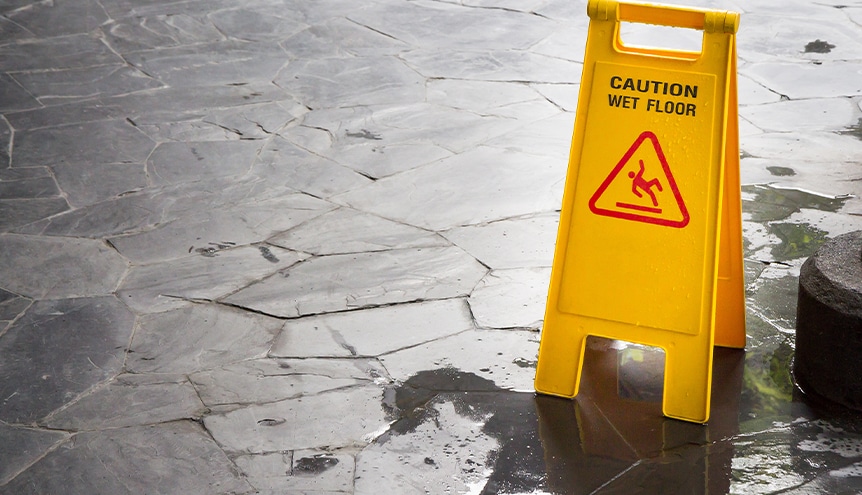 Tulsa Slip & Fall Lawyers
Tough representation for slip and fall victims
People who slip and fall on someone else's Tulsa property generally have the right to file a claim against the property owner.  Property owners include commercial businesses such as restaurants, retail stores, hotels, grocery stores, professional offices, construction sites, and any business that sells goods or services. Property owners also include nonprofit organizations that provide community services including schools, churches, nonprofit organizations, and other similar organizations. Homeowners may also be responsible for a slip and fall.
At Biby Law Firm, our Tulsa slip and fall lawyers understand who is responsible for your accident, why your accident occurred, and what the property owners should have done to prevent your accident from happening. We are skilled at showing through testimony, evidence of prior complaints, and investigation of the accident site, why the accident caused your injuries. Our seasoned premises liability lawyers demand compensation for all your economic and personal damages. We have successfully handled premises cases including a $75,000.00 settlement for a fall at an apartment complex, $125,000.00 settlement for a fall at a grocery store, and countless others. Call us today to learn how we can help you.
What leads to slip and fall accidents in Tulsa?
Slip and fall accidents and trip and fall accidents can occur if a visitor:
Slips on icy pavements
Falls caused by faulty guttering and drainage systems
Slips on spilled liquids
Slips on recently waxed surfaces
Falls because tiles were broken, or a carpet was torn
Falls because the lighting was poor or lacking preventing a customer or visitor from seeing dangerous conditions
Stumbles because debris wasn't cleaned up or there were loose objects on the floor
Falls because the parking lot had potholes or other obstacles
Falls caused by property owners failing to adhere to ADA or building/fire code requirements
Tumbles down the stairs because the hand railings were loose or the steps were uneven
Falls for many other reasons
Slip and falls claims can be filed if you fall in a parking lot, at the entrance/exit to a store, in the lobby, in the aisles of a store, or anywhere in another person's or company's business.
Falls in nursing homes
The elderly are at significant risk of fall-related injuries, so nursing homes, assisted living facilities, and rehab centers owe their residents and patients a duty of care. Residents can fall as a result of dangerous floor plans or furniture placement, but also because of:
Defective or missing bedrails
Defective or missing shower rails/ shower seats
Medication errors that lead to balance problems
Lack of supervision by staff, leading to wandering/elopement
What injuries do Tulsa slip and fall accident victims suffer?
A fall is very serious – especially if the person who falls is older, or if the person falls head-first. At Biby Law, we represent Tulsa slip and fall victims who suffer any type of serious injury including:
Traumatic brain injuries and other head injuries
Spinal cord injuries including paralysis
Broken bones such as broken hips, arms, and legs
Traumatic amputation of a limb
Internal bleeding and organ damage
Knee and other joint injuries
Cuts, bruises, and lacerations
Muscle, ligament, tissue, and nerve damage
In the most tragic cases, a slip and fall accident can cause a loved one to die.
Who can be held liable for a slip and fall injury in Tulsa?
Property owners are generally liable if they owed a duty of care to users of their property, they breached that duty, and the breach was the cause of your injuries. Property owners owe a duty of care to virtually everyone they allow to use their property during business hours. With limited exceptions, property owners do not owe a duty of care to trespassers.
A key part of every case is determining who owned the property where you fell, and who was responsible for its maintenance and upkeep. The liable defendants may include:
The property owner
A tenant of the property owner
A parent company or subsidiary of the property owner
A maintenance company hired by the property owner to conduct inspections and keep the premises safe
Where many cases succeed or fail is the determination of fault, or negligence, by the parties referenced above.   At Biby Law Firm, our Tulsa slip and fall lawyers are skilled at showing property owners breached the duty of care by failing to respond to dangers they knew, or should have known, existed. This requires certain steps to be taken as quickly as possible to ensure critical evidence is collected or preserved. We work with your doctors to show your injuries are due to the fall, and not other causes. Whether you were injured at a grocery store, someone's home, a retail shop, or in an airport, or your child was hurt at school or daycare, we want to help.
What is comparative negligence?
In Oklahoma, if you were partially at fault for your accident, your damage award will be reduced by the percentage of your fault – the amount of your comparative negligence. For example, if your claim is worth $100,000 but you were 10 percent at fault for the accident, your claim will be reduced by 10 percent down to $90,000.
Generally, shoppers and visitors do not have a duty to look at the floor or continually inspect their surroundings when they are shopping or using someone's property. The standard is more general in that people must act as any reasonable person would under the same circumstances. Some common activities that can lead to comparative negligence on an injured party include intoxication, distraction by things such as cell phones or other persons nearby and failure to keep a proper lookout.
What are some common defenses for a slip and fall claim in Oklahoma?
Beyond pinning some portion of comparative fault onto an injury party, there are several affirmative defenses to premises liability cases that, if proven, can lead to the dismissal of the case outright.  First, if the danger which caused the injury is proven to be open and obvious such that the injured person should have appreciated the danger with the exercise of reasonable care, the case may very well be dismissed by the Court. Similarly, if a person is found to have known and understood a potential risk and failed to take advantage of other safer alternatives which would have allowed them to avoid the risk, the affirmative defense of assumption of risk could result in a dismissal.
Each premises case is dependent on the specific facts of each case.  The attorneys at Biby Law Firm are also keenly aware of current case law and how the facts of their clients' cases will likely be affected by precedence established in previous cases.
What is the statute of limitations for a slip and fall lawsuit in OK?
Generally, you must file your Tulsa slip and fall claim within two years from the date of the accident. You should never wait that long. You should speak with our skilled slip and fall lawyers as soon as possible. There may be shorter timelines if, for example, the government owned the property. The ability to collect and preserve evidence often aligns with how quickly we are initially contacted. The sooner we are able to identify all potential defendants, inspect the scene and speak with witnesses the better.
What damages can I seek in a Tulsa slip and fall claim?
Every case is unique. However, there are some general principles that apply. If you are injured in a slip and fall accident in Tulsa, your claim can include all the following:
Your medical bills – current and future
Your lost income and benefits – current and future
Your pain and suffering – current and future
Any loss of function
Scarring and disfigurement
Loss of consortium (marital companionship)
We may also file a claim for punitive damages if the owner's acts and omissions are egregious.
How can Tulsa property owners protect their visitors?
Most slip and fall accidents are preventable. Some common examples of property owner negligence that can lead to slip and falls can include failing to:
Regularly conduct inspections for dangerous conditions
Respond to complaints of known dangers
Fix dangerous conditions in a timely manner
Warn customers and visitors about known dangers
Comply with local building codes
Remove obstructions
Clean the floors on a regular basis
Take many other steps depending on the nature of the business
Examine the outside of the building as well as the inside of the building
Property owners deserve to be held liable if they fail to prioritize your safety.
Do you have a slip and fall accident lawyer near me?
Biby Law Firm has two Tulsa offices located at 1646 S. Denver Ave and 6305 E 120th Ct., Suite K9. We also meet clients at their homes or healthcare facilities when necessary and conduct video conferences when desired or required by the circumstances. We'll answer your questions, guide you through the claims process, and demand compensation for all your personal and financial damages.
Speak with an experienced Tulsa slip and fall lawyer today
Don't wait. The sooner you speak with Biby Law Firm, the sooner we can help you obtain the recovery you deserve. Our Tulsa slip and fall attorneys have helped numerous clients obtain just settlements and strong verdicts. We understand the unique challenges of filing a slip and fall accident case including the physical and mental difficulties of living with your injuries. For immediate help, call us or complete our contact form to schedule a free consultation appointment. We handle injury cases on a contingency fee basis. We proudly serve all of Oklahoma including the communities of Broken Arrow, Bixby, Claremore, Jenks, Sand Springs, Sapulpa, Wagoner, Muskogee, and the surrounding areas.
Related Articles: