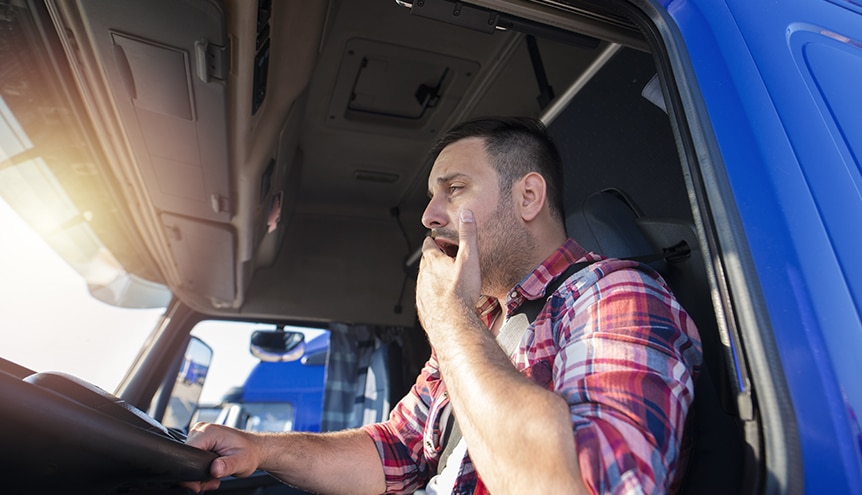 Tulsa Fatigued Truck Driver Accident Attorneys
Strong advocacy for victims of truck crashes due to drowsy driving in Oklahoma
Truck driving can be a lonely occupation, as drivers spend most of their working hours away from home. They're on the road for long periods of time, early in the morning and late at night, just staring at the open road. All those hours can be exhausting, and drivers can become drowsy. Another major reason for driver fatigue is that truck drivers are pushed to make more and more deliveries in shorter and shorter time frames. Often times, their employers face fines if the load isn't on time. In addition, drivers of 18-wheelers, semis, tractor trailers and other commercial trucks want to finish their trips as quickly as possible so they can pick up another load or get back home to their families.
At Biby Law Firm, we understand the unique dangers of truck driving. We hold truck drivers, trucking companies, brokers, and shipping companies accountable when they put profits over driver safety. We investigate whether the drivers kept proper logs of their travels, whether trucking companies imposed unrealistic timelines, and when drivers took time to rest. Our lawyers examine if the truck driver failed to comply with federal laws which regulate the number of hours a truck driver should drive. Our Tulsa truck accident lawyers fight to show that driver fatigue caused your injuries or the death of a loved one.
How serious is the problem of driver fatigue?
One study in the National Institutes of Health showed that the mean number of hours truck drivers worked each day was 11 hours, 55 minutes, for an average of 2,812 miles a week. And 23.8% of the time, drivers drove more than the mandated Hours of Service regulation limits set by the federal government.
According to the National Highway Traffic Safety Administration:
Driver fatigue crashes most frequently occur at times of day when the driver's circadian rhythm dips – between midnight and 6 am and late in the afternoon.
Most drowsy driver collisions (all vehicles) involve a single driver running off the road, with no evidence of braking.
Drowsy driving wrecks happen frequently on highways and rural roads.
What factors cause driver fatigue in Tulsa?
Commercial drivers have an increased risk for driver fatigue for many reasons, including the following:
Long shifts. Even though the federal government regulates how long drivers can work, many drivers and trucking companies don't obey the guidelines, or they push the limits of those regulations. Drivers shouldn't just rely on mathematics (the specific number of hours they're allowed do driver). Truck drivers should know the signs of driver fatigue – such as yawning, shutting ones' eyes, needing coffee, and not having control of their vehicle – so they can get off the road and get some rest. Drivers who are paid by the mile or by the hour are also more likely to drive longer hours than drivers who are paid by the week.
Pressure from the trucking companies. Some trucking companies impose fines if drivers don't meet their deadlines. Some drivers are rewarded if they make deliveries ahead of schedule.
Falsifying records. Commercial truck drivers are required to keeps logs/records of the hours they are driving. Some drivers may mispresent the number of hours they're not working or may claim that they were helping with loads and weren't actually driving, when they really were Even with the development of electronic logbooks, falsifying logs occurs frequently.
Alcohol and drug usage. Many drivers use stimulants to stay awake or depressants (alcohol is a depressant) to control their stress. Using substances can contribute to a lack of sleep or cause drivers to feel sleepy while they're driving.
In many cases, driver fatigue is just one cause of the collision. Tired drivers are often distracted because they're drinking, eating, or talking on their smartphone in order to stay awake. There are federal and state regulations on the use of cell phones while operating a vehicle. We determine if the hours of service or distracted driving laws were violated and then assert the violations as reasons why negligence is clear.
What are the federal truck driving fatigue regulations?
Generally, drivers who deliver property from state to state are subject to the hours of service regulations of the Federal Motor Carrier Safety Administration. Drivers who only drive in Oklahoma are subject to Oklahoma's laws, which have adopted the FMCSA regulations. There are separate rules for commercial drivers who transport people.
The FMCSA rules, prior to the COVID-19 pandemic, require that:
Truck drivers cannot work more than 60 hours on-duty during seven consecutive days or 70 hours on-duty over eight days. They need to keep driver logs of their on-duty, off-duty, and break hours.
Drivers can only be on-duty up to 14 hours which must be followed by 10 hours off-duty. Of the 14 hours, only 11 hours can be driving hours.
Drivers must take a 30-minute rest break by the 8th hour of their on-duty shift.
Before going on duty, the driver must have been off-duty for at least 10 hours.
The 14-hour period can't be extended "with off-duty time for breaks, meals, fuel stops, etc."
Due to the COVID-19 pandemic, some exceptions have been granted. The 30-minute break is required after 8 hours of driving time – instead of on-duty time. Other changes apply to use of sleeper berths, short-haul exceptions, and time limits for rests during adverse driving conditions.
We know how to determine if a driver was violating the hours of service (HOS) requirements at the time of an accident.
Who can be held liable for driver fatigue accidents in Oklahoma?
Fatigued drivers who cause a collision which leads to an injury or a death can be held liable. In addition, the following entities may also be liable for semi-truck collisions caused by fatigue:
The owners of the truck are generally vicariously liable for any negligence of anyone they give permission to drive the truck.
Trucking companies can be liable if they hired the truck driver and failed to monitor his/her hours or pushed the driver to place making the delivery a priority over getting enough rest.
Shipping companies can be liable if they placed orders for shipments of goods or inventory that forced drivers to stay on the road too long.
The broker of the load. This is the business that matches the trucking company to the load.
We demand to see all the relevant logs and records that drivers and trucking companies are required to keep. We also seek any other evidence that might show driver fatigue such as video cameras which many trucks now use. In addition, we conduct extensive discovery of all relevant witnesses to the collision.
Speak with an experienced Tulsa truck collision lawyer today
At Biby Law Firm, we investigate how the collision happened. Common causes include driver fatigue, drunkenness, driver distraction, and speeding. We file claims against all responsible parties, not just the driver. We demand compensation for your pain and suffering, your medical bills, your lost wages, damage to your vehicle, and any other relevant damages. We may include a claim for punitive damages if drivers were clearly pushed to drive when they were tired. For help with any truck collision in or near Tulsa, call our truck collision lawyers at 918-574-8458 or use our contact form to schedule an appointment. We handle truck collision cases on a contingency fee basis. We proudly serve the communities of Broken Arrow, Bixby, Claremore, Jenks, Sand Springs, Sapulpa, Wagoner, Muskogee, and the surrounding areas.