18-Wheeler Trucks and Pedestrians Do Not Mix Well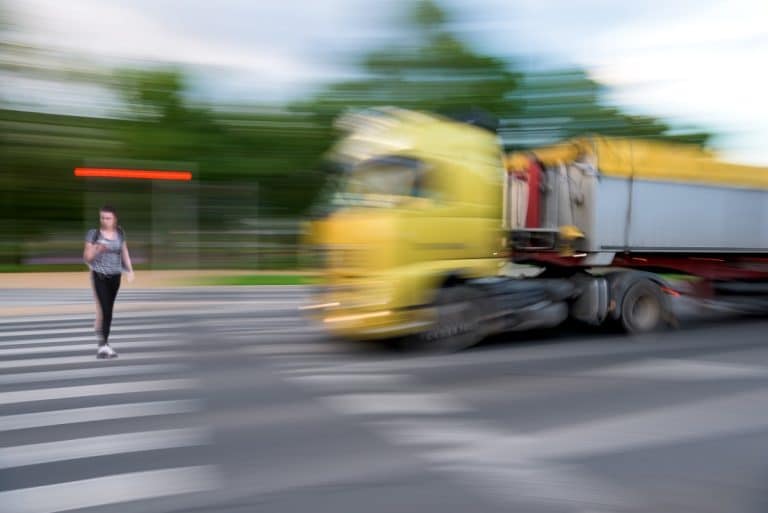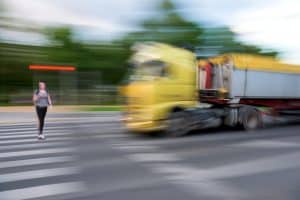 It is very common for pedestrians to find themselves navigating around 18-wheeler trucks. Whether the 18-wheeler is driving around a grocery store, rest stop, restaurant, or even through town, you may find yourself walking close to these large and heavy trucks frequently.
While you may think that you can trust the truck driver to safely maneuver and keep an eye out for you, the truth is that there is a high chance that they cannot see you or do not even know that you are nearby.
Why can't 18-wheeler truck drivers see pedestrians?
Semi-truck drivers usually have a very hard time seeing pedestrians because of their blind spots. In fact, due to their large size and frame, semi-trucks have several different blind spots that passenger vehicles do not. This not only makes it difficult for truck drivers to drive on the roads, but it can also affect their ability to see pedestrians in busy parking lots, intersections, rest stop areas, restaurants, shopping centers, and more. Here are four main blind spots that truck drivers have while driving a semi-truck:
The right side of the truck: From the right-side mirror all the way to the back of the semi-truck is a large blind spot for semi-trucks. Therefore, if you are walking on the right side of the truck, you are most likely not visible to the driver.
The left side of the truck: Just like the right side, there is a huge blind spot from the driver-side door extending all the way to the back of the semi-truck. The trucker cannot see you if you are walking on the left side of their truck.
The rear of the truck: When it comes to the rear-end of the truck, there is a large blind spot that extends up to 30 feet or more, making it very difficult for truck drivers to see pedestrians behind them. The rule of thumb is that if you cannot directly look into the semi-truck's mirror and see the driver from where you are standing, they are unable to clearly see you as well.
The front of the truck: The front of the truck has a slightly smaller blind spot than the rear, but it can still extend up to 20 or more feet. Therefore, if you walk out in front of a semi-truck and are in this blind spot area, there is a good chance that the trucker cannot see you or does not have time to stop or slow down to avoid hitting you.
After reading about all four of these blind spot areas on an 18-wheeler, you may be thinking about how these four spots extend over the entirety of the truck. This is correct. Therefore, you should be very careful and cautious around semi-trucks and always assume that they cannot see you. If you need to, let them pass by you before continuing to walk.
Recent truck and pedestrian accidents near Tulsa, Oklahoma and other states
Semi-trucks are running over and striking pedestrians across various Oklahoma cities as well as other states. The following are a few of the most recent truck and pedestrian accidents that have occurred near Tulsa as well as the rest of the country:
The severity of pedestrian injuries after a semi-truck accident
Semi-trucks can legally weigh up to 80,000 pounds in the United States. The average American man weighs around 200 pounds, according to the Centers for Disease Control and Prevention (CDC). Therefore, if a passenger is hit or run over by this massive machine weighing around 80,000 pounds, there is a high likelihood that they will not stand a chance at surviving. If they miraculously survive, most experience an excruciating and debilitating recovery process beyond the pain and suffering associated with the initial injury.  These are some of the most common injuries that pedestrians may suffer after a semi-truck accident:
Fractured skull
Concussions, contusions, and other traumatic brain injuries
Broken and crushed bones
Severe internal bleeding
Permanent organ damage
Amputations
Pelvis, neck, shoulder, chest and abdominal injuries
Chemical burns
Disfiguration, scarring, and disability
Facial, dental, and eye injuries
Severe cuts and lacerations
Paralysis
Coma
As you can see, the list of injuries that pedestrians may experience after being struck by an 18-wheeler is never-ending. Common sense dictates that the human body cannot withstand the level of impact and weight that a semi-truck brings. If a pedestrian is lucky enough to survive being struck or run over by an 18-wheeler truck, they will most likely be disabled, need around-the-clock care, have many complications and obstacles to overcome, likely requiring a rigorous medical and rehabilitative treatment plan for the rest of their lives.
If you or your loved one was hit by a truck driver and believe negligence was involved, you may be eligible to file a lawsuit against the trucker or other responsible parties. At Biby Law Firm, our Tulsa pedestrian accident attorneys have handled all types of pedestrian accidents, including those that involve semi-trucks. We will thoroughly investigate your accident, recommend top-quality medical care, provide helpful legal advice, and do everything in our power to protect your rights. Please call the office of Biby Law Firm or complete our contact form to schedule a free consultation.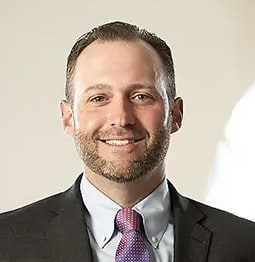 Jacob Biby has spent his legal career helping folks just like you get the resources they need after a personal injury. He completed his undergraduate degree at Oklahoma State University and earned his Juris Doctorate from the University of Tulsa in 2008. Jacob is licensed to practice in all Oklahoma state and federal courts, and has limited his career to representing individuals and families who were injured by the negligence of other people or corporations.  Learn more about Jacob Biby.