Legal Options for Pedestrians and Cyclists Injured in Vehicle Accidents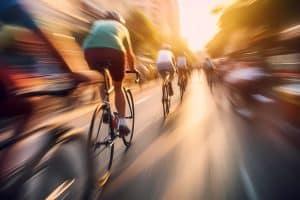 As the weather gets warmer, more people are out and about enjoying the outdoors. However, this also increases the amount of pedestrian and cyclist accidents we see in Tulsa.
The Governors Highway Safety Association found that drivers killed over 7,500 pedestrians just in 2022, making it the highest number since 1981. At roughly 20 deaths per day, it's clear that these accidents can result in severe injuries, medical expenses, and emotional distress for the victims that are fortunate enough to survive.
That's why it's crucial for both pedestrians and cyclists to understand their legal options after being hit by a car. While the legal process may seem overwhelming, it provides a way for those who were injured to seek justice and obtain compensation for their losses.
Making a claim against the driver
When a pedestrian or cyclist is hit by a car and injured, they have several legal options to seek compensation for their injuries. One option is to make a claim against the driver who caused the accident. To do so, they need to establish that the driver was negligent and at fault. To make a successful claim against the at-fault driver, certain elements must be established. These elements include proving:
The driver had a duty to drive safely and follow the rules of the road.
The driver breached that duty through their negligent conduct.
The driver's negligence directly caused the accident.
You suffered injuries and damages as a result of the incident and negligence.
If the injured person can prove these elements, they may be entitled to monetary compensation. This compensation can cover various things like medical bills, which include the costs of treatment and doctor visits. They also may be able to receive compensation for pain and suffering, which refers to the physical and emotional distress caused by the accident. Lost wages, if the injuries prevent the pedestrian from working and earning income, are also another category of recoverable damages.
Making a claim against the driver's employer
In some Tulsa accident cases, it may be possible to also file a claim against the at-fault driver's employer on top of the claim against the driver themselves. If the driver was running a work-related errand or carrying out job responsibilities when the collision occurred, there are cases and statutes which support holding their employer liable. However, if the driver was on a personal errand or deviated significantly from their work duties, it may be very tough to establish the employer's liability.
Pursuing an additional claim against the driver's employer can be particularly beneficial if the driver does not have sufficient insurance coverage to fully compensate the victim. Pursuing a claim against the employer provides an additional avenue for seeking the compensation needed to cover medical expenses, pain and suffering, and other damages resulting from the accident—especially if the injuries were severe.
Seeking compensation from your auto insurance
It may sound confusing at first, but you actually may be able to get compensation through your own auto insurance. Uninsured motorist coverage (UM) applies when the at-fault driver does not have any insurance coverage. Underinsured motorist coverage (UIM) comes into play when the at-fault driver's insurance coverage is not enough to fully compensate the injured pedestrian for their injuries and damages. Oklahoma law does not distinguish between UM and UIM but insurance policies from neighboring states often do.
Luckily, Oklahoma's UM/UIM coverage typically applies not only to accidents involving vehicles while you are driving but also when you are a pedestrian or cyclist. If you have uninsured or underinsured motorist coverage as part of your auto insurance policy, you can file a claim with your own insurance company to seek compensation for your medical expenses, pain and suffering, lost wages, and other damages resulting from the accident.
Utilizing health insurance
Victims also have the option to utilize their own health insurance if they are covered by a plan. First, they will need to review their health insurance policies and understand what is covered and what is not. They should reread their policy documents or contact their insurance provider to learn about the specific coverage for accidents and injuries. It's so important to understand the deductibles, co-pays, and any limitations or exclusions that may apply.
After receiving medical treatment, pedestrians should follow their health insurance provider's claims process by submitting the necessary documents accurately and within the specified deadlines. While some insurance providers may cover the medical expenses upfront, victims should be aware of reimbursement and subrogation. Reimbursement means the insurance company may seek repayment if the pedestrian receives compensation from the at-fault driver, and subrogation allows the insurance company to take legal action against the responsible party to recover their expenses.  Almost all health insurance policies give the insurers the right to be repaid out of any recovery made by the injured party via reimbursement and/or subrogation.
Fighting for compensation in Tulsa can be tough
Dealing with insurance companies after getting injured by a car while walking or riding a bike is not an easy process. Insurance adjusters are representatives of the insurance company who are responsible for evaluating and settling claims—and they use tactics that may include minimizing the severity of your injuries, questioning your credibility, or attempting to settle quickly for a lower amount. It is not uncommon for injured parties to feel misled by insurance adjusters who may misstate or mischaracterize how the process is supposed to work, or what a person's rights are under the law.
In order to navigate these challenges, working with a skilled pedestrian accident attorney or bicycle accident attorney who employs strategies for negotiating a fair settlement is crucial. The team at Biby Law Firm will start with gathering and documenting all relevant evidence to support your claim, such as medical records, accident reports, and witness statements. This evidence helps establish the extent of your injuries and the liability of the at-fault party. We will also help counter the tactics of insurance adjusters, ensuring that your claim is accurately valued, and negotiate for a fair settlement that covers your medical expenses, pain and suffering, and other damages. If a fair pre-suit offer is not made, all the attorneys at Biby Law Firm are experienced litigators with a proven track record of working cases up to and through trial.
If you were injured in a car accident while walking or biking, call our Tulsa office or complete our contact form today for a free case evaluation.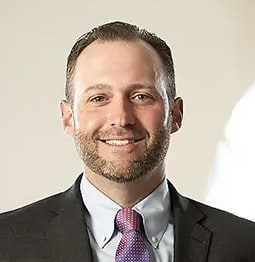 Jacob Biby has spent his legal career helping folks just like you get the resources they need after a personal injury. He completed his undergraduate degree at Oklahoma State University and earned his Juris Doctorate from the University of Tulsa in 2008. Jacob is licensed to practice in all Oklahoma state and federal courts, and has limited his career to representing individuals and families who were injured by the negligence of other people or corporations.  Learn more about Jacob Biby.