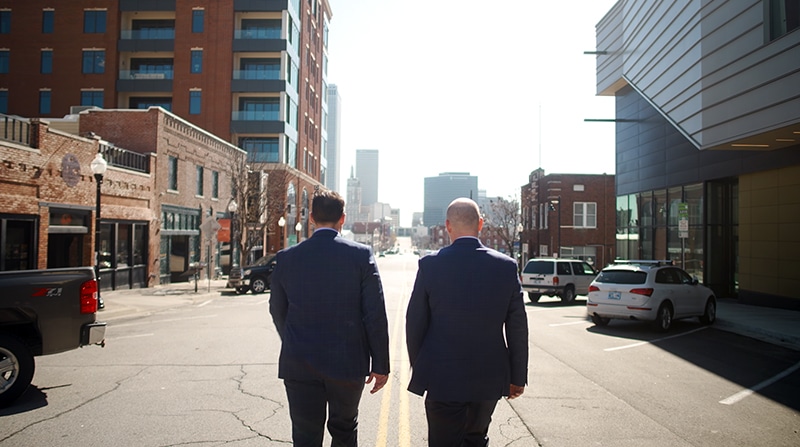 $1.25 Million
UM/UIM bad faith settlement
Confidential 7 Figure Settlement
For family of person killed by fatigued semi-truck driver
$1.275 Million
Award for wrongful death
stemming from an auto collision
$1.25 Million
UM/UIM bad faith settlement
$1.1 Million
Total combined settlement for two individuals following severe motor vehicle collision
$1.02 Million
Settlement for wrongful death
Confidential 7 Figure Settlement
For family of person killed by fatigued semi-truck driver
$875,000
Settlement for motorcycle crash victim
$1.1 Million
Total combined settlement for two individuals following severe motor vehicle collision
$875,000
Settlement for motorcycle crash victim

Protecting Tulsans' rights and futures after a serious injury
Experienced Tulsa Injury Lawyers
Practical, prepared counsel for the injured throughout Oklahoma
Asking for help can be hard when you're used to doing things for yourself. There are times, though, when you're going to need a helping hand, and dealing with the effects of a serious personal injury is one of those times. You can't focus on healing if you're worried about mounting bills, insurance adjusters calling to try and take your statement, scheduling doctor appointments or wondering how you're going to pay your bills if you have to miss work because your vehicle was totaled.
Biby Law Firm is here to lend a helping hand. Tulsa personal injury lawyers Jacob Biby and Patrick Collogan have spent their entire careers representing injured folks throughout Oklahoma with honesty, integrity and a work ethic that proves that the person who is prepared has already won half the battle. Whether you were hurt in a car wreck, trucking collision, nursing home, or out in the oil field, Biby Law Firm stands ready to help. Contact us today so we can get started on your case. Our offices are open 24 hours a day, 7 days a week.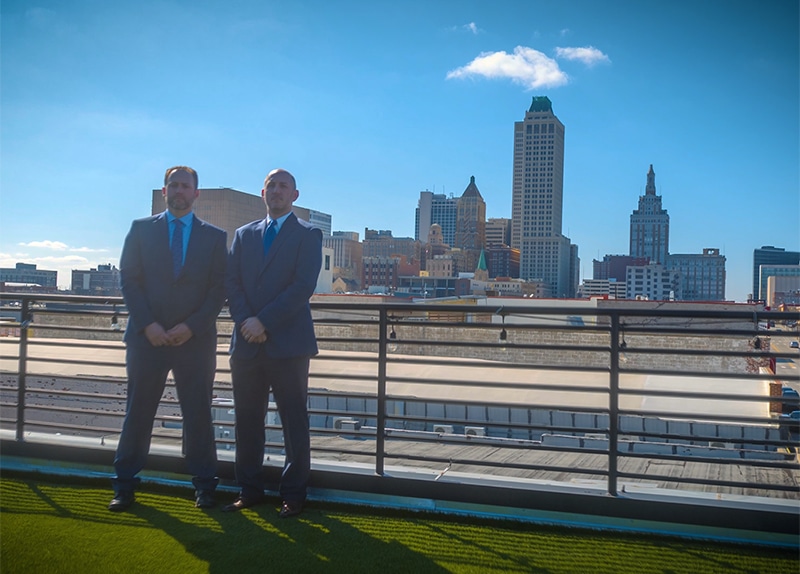 Meet Jacob Biby, founder
Over his career, Jacob has represented over a thousand individuals who were injured by no fault of their own. It is his passion for helping people, coupled with his work ethic and creativity, that set him apart from other attorneys who are simply going through the motions and view clients as a means to an end. Since 2012 alone, Jacob has obtained 70 verdicts and settlements of at least $100,000.00 for clients across this region of the country. As a result, Jacob has been asked to present numerous continuing legal education courses to other attorneys on matters involving personal injury law, has been recognized by Super Lawyers for 9 years straight, has a perfect 10/10 Avvo rating and is a member of the National Trial Lawyers Top 100. Mr. Biby is also active in his community and serves in multiple legal associations.
We invite you to learn more about Jacob Biby.
Meet Patrick F. Collogan, partner
Before joining Biby Law as a partner in 2021, Pat honed his skills in personal injury claims, including case investigations, pre-litigation claims handling, litigation, and trial practice. When he tries cases across Oklahoma, he dedicates himself to working for the most successful outcome for each and every client. Pat devotes his career to helping victims harmed through no fault of their own, defending their rights against the insurance industry. He has been nominated to Super Lawyer's Rising Stars of Oklahoma in the field of Personal Injury every year since 2017, and is licensed to practice in and regularly appears throughout Oklahoma's District Courts and the Western, Eastern and Northern Districts of the United States District Courts of Oklahoma.
Find out more about Patrick Collogan.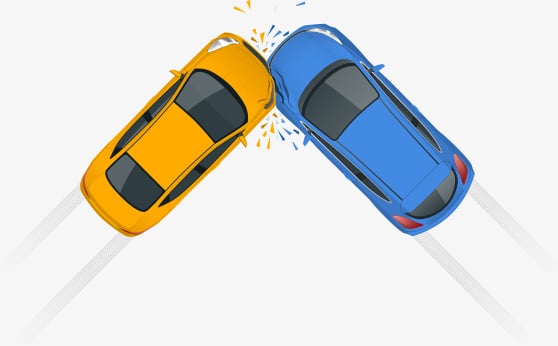 There were
traffic fatalities
in Oklahoma in 2021
- and people were
injured in some
capacity that year
Tulsa accident lawyers: car, truck, motorcycle, and ATV accidents
Despite all the efforts being made to lower the number of people hurt or killed in motor vehicle collisions, Oklahoma's numbers keep going up. When someone drives recklessly or distractedly, or gets behind the wheel when he or she is too drunk or too tired to drive, it's your life – your children's lives – at risk.
At Biby Law Firm, we know that even a "fender bender" has the potential to turn your world upside down. From simple things like having no transportation, to more significant problems like mounting medical bills, lost income, 24/7 pain, or being unable to find a doctor to treat you because you were injured through no fault of your own.
We know the things you are going through. We care. And we are here to help you get through an unexpected life change. We will work aggressively to help you get the compensation you need so you can start on your path to recovery. Contact us to speak with Tulsa injury attorneys who handles all manner of crashes and collisions, including:
Do you have a claim for bad faith after your car accident?
Oklahoma's uninsured motorist (UM) insurance laws were designed to protect victims of car, truck, and motorcycle accidents. In Oklahoma, your insurance company must help you on UM claims. They are not there to treat you like an opponent. However, many times insurance adjusters are not trained on handling UM claims in Oklahoma. As a result, they fail to follow the law and fail to treat their insured's fairly. If your insurance company isn't doing right by you, you may have an insurance bad faith claim. A denial of a small insurance claim can be huge to you and over time the denials add up to save insurance companies millions and millions of dollars. Whether you were injured by an uninsured driver or are having trouble accessing your MedPay, or have had a claim incorrectly or illegally denied, our team can help answer all of your questions regarding uninsured/underinsured motorist coverage in Oklahoma.
Aggressive representation for the catastrophically injured in and around Tulsa
There's nothing easy about being injured. A back strain or a broken bone can make even the simplest things, like getting dressed on your own or driving a car, more difficult. But there are some injuries that are life-changing, and no amount of Tylenol or a cast that will fix it. These are the catastrophic injuries: the ones that change the trajectory of your life, and the lives of your family and caretakers, forever.
At Biby Law Firm, our injury attorneys not only have the skills and experience to handle these types of claims: these are why we work in the field that we do. We the experience and the resources to see them through to a successful resolution. We have long-term relationships with investigators and experts who can help assess liability and accurately value the harms and losses you have sustained. This is important because some personal injuries take a very long time to heal, and we want to ensure that your claim for damages truly reflects the damages done. Contact us today to discuss how we can help with:
Whether your injury leaves you unable to use part of your body, leaves you in chronic pain, or requires you to have a caregiver, our Tulsa personal injury attorneys can help. If you suffered an injury on the job, we can direct you to the right resources for a workers' compensation claim at no cost to you.
Purposeful assistance for oil field injury claims
Historically, Tulsa has billed itself as the Oil Capital of the World. While Tulsa's contributions to the energy sector have moved from drilling into mid- and downstream jobs, plenty of Tulsans still travel to the SCOOP, the STACK, and even into Texas to work in a wide variety of oil field jobs.
Firm founder Jacob Biby was recently successful making sure that oil field workers did not lose their right to have their day in court for injuries sustained on a drilling rig. In the case of Benedetti v. Cimarex, et al., the Oklahoma Supreme Court overruled a trial court and the Court of Civil Appeals, to protect the rights of workers who have been injured on oil rigs in Oklahoma.
Biby Law Firm understands the unique needs of workers who have been injured in the oil fields, and handles a wide array of oil field injury claims, including drilling accidents, oil rig accidents, and pipeline accidents.
Why choose Biby Law Firm when you need an injury lawyer in Tulsa?
At Biby Law Firm we believe that being prepared is the single best thing we can do for our clients. Through tireless work ethic, passion for helping people that would otherwise have no voice and our creativity in using technology is why we have been so successful for our clients.
At Biby Law Firm, we do the hard work so that our clients can focus on their own needs and recovery. Our cases are not simply a means to an end: they are real people with real concerns and goals, and we take those seriously. We prepare every case we take as though it may go to trial right here in Tulsa, which means we need to bring our "A game" at every step. We've found that this preparation often leads to an outcome that's fair and just, and helps our clients avoid lengthy trials.
Our clients simply cannot afford for us not to do our jobs as best we can from the start, and we wouldn't ask them to. Our work ethic, our passion, and our dedication to justice sets us apart from other personal injury law firms. It's our promise to you.
Injured in Tulsa? Call Biby Law Firm for a free consultation
From Broken Arrow, Bixby, and Claremore, to Grove, Jenks, Sand Springs, Sapulpa, Wagoner, and Muskogee: Biby Law Firm has you covered. When you are hurt, we are here to help. To schedule a free consultation with an experienced personal injury lawyer in Tulsa, call 918-574-8458 or fill out our contact form. You won't pay anything until we win your case.